The Myth of the Black Woman
by Ayana O'Shun
2022, Canada, 94 mins
2:15 pm on Sept 23, 2023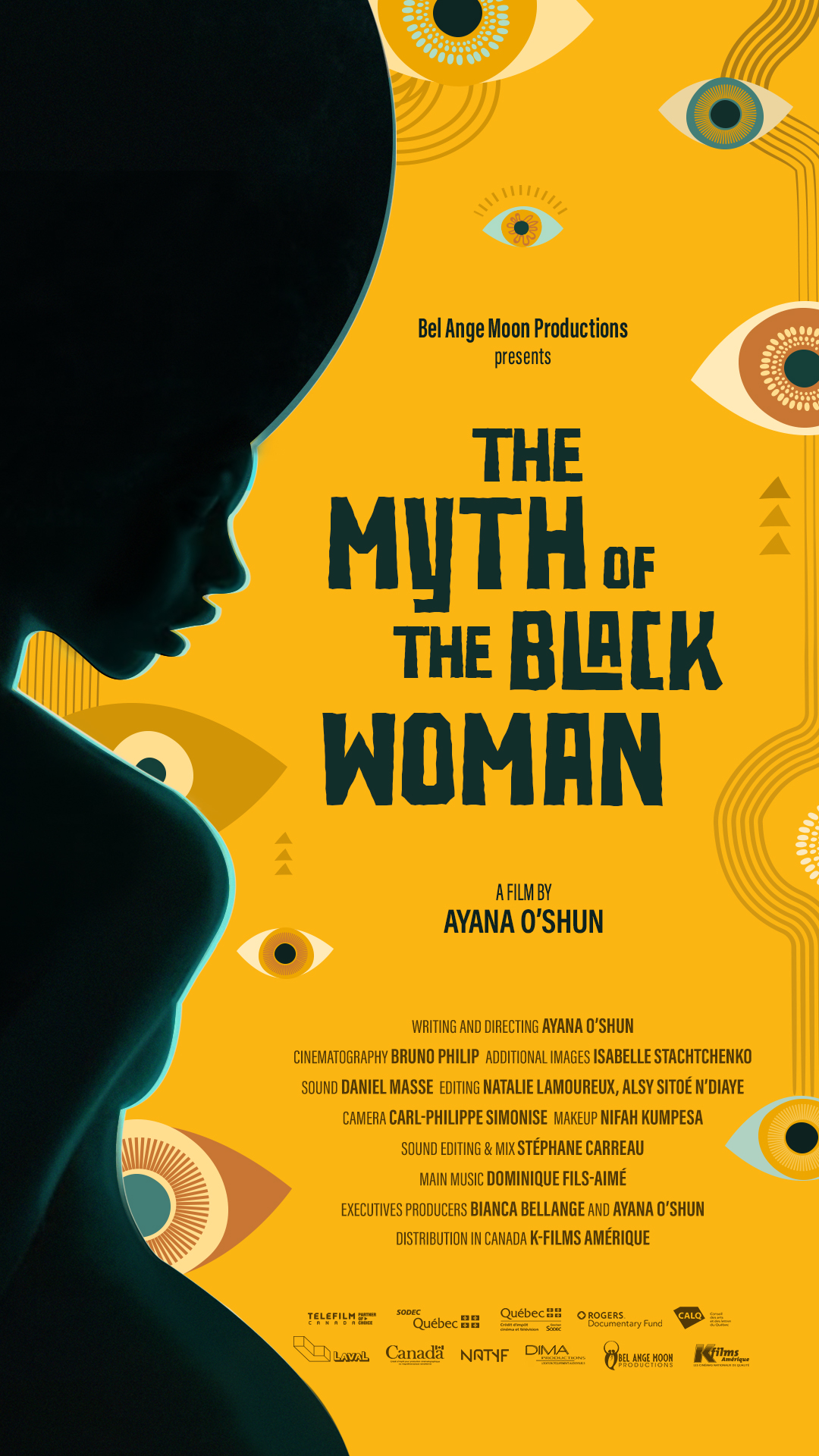 About the movie
English—The Myth of the Black Woman is a feature-length documentary that investigates the images of Black women inWestern society, from the hypersexual Jezebel to the lovable Nurse to the Angry Black Woman. Experts say that the Black community is the minority most affected by images created centuries ago. The film works to break down The Myth by featuring a diverse group of women and a wealth of realities rarely seen on screen and supported by engrossing archival footage from the 1800's to the present day.
French—« Le Mythe de la Femme Noire » est un long-métrage documentaire qui enquête sur l'image des femmes noires dans la société, de l'hypersexuelle Jézabel à l'aimable Nourrice, en passant par l'insolente « Bitch ». Selon des spécialistes, la communauté noire est la minorité la plus touchée par des images créées il y a des siècles. Des femmes noires, leaders acclamées dans leur domaine, racontent les défis que ces représentations d'elles entraînent dans leurs vies. Leurs histoires passionnantes sont appuyées par des images d'archives inédites et captivantes allant de siècles passés jusqu'à nos jours.
English — Ayana O'Shun is a director, screenwriter and producer. She speaks four languages. Her films have been selected in more than 60 national and international festivals, and have won many awards, includ-ing the Dikola Award for "Best Documentary Film" at the Cannes PanAfrican International Film Festival, and the "Best Foreign Film" award at the Festival Écrans Noirs in Yaoundé, sponsored by SODEC and TV5 Monde.
"Doctors Without Residency", which she wrote and directed, was produced by the National Film Board of Canada (NFB), the award-winning institute (including 11 Oscars) that produces and distributes doc-umentaries and animated films. It tells the story of the difficulties foreign-trained doctors face in practic-ing in Canada – even when they have been certified by Canadian medical authorities. The film ranked as the most viewed film on the NFB platform for several weeks. 
For her film "Lazyboy", Ayana was mentored by Léa Pool, a renowned Swiss-Canadian director who has received more than 30 nominations and 20 awards on the national and international scene. Many of Pool's films have been invited to compete at prestigious festivals such as the Berlinale, Venice Festival, Sundance and TIFF.
Keen to learn more about the industry and the needs of international markets, Ayana participated in a variety of programs. Notably, following her participation in the Cannes Film Market as part of the Que-bec delegation, she was selected in 2019 for the "Netflix-Banff Diversity of Voices Initiative" program.
In 2020, she participated in the 7th edition of the Talent Lab – Netflix at RIDM. She won one of the four grants, following a very competitive pitching session.
In 2021, Ayana was one of three people selected by SODEC to join the European Film Market (EFM) Doc Toolbox Programme at La Berlinale.
In 2022, her first feature-length documentary, « The Myth of the Black Woman », won the Magnus Isaacson Award for best film at the Montreal International Documentary Festival (RIDM). In 2023, the film was released in Quebec theatres and stayed on the big screen for 2 months. It was in the top 20 of the box-office for five weeks, among many American hits.