The Lucky Specials
by Rea RANGAKA
2017, South Africa, 108 mins
8:30pm – 10:30pm on May 5, 2018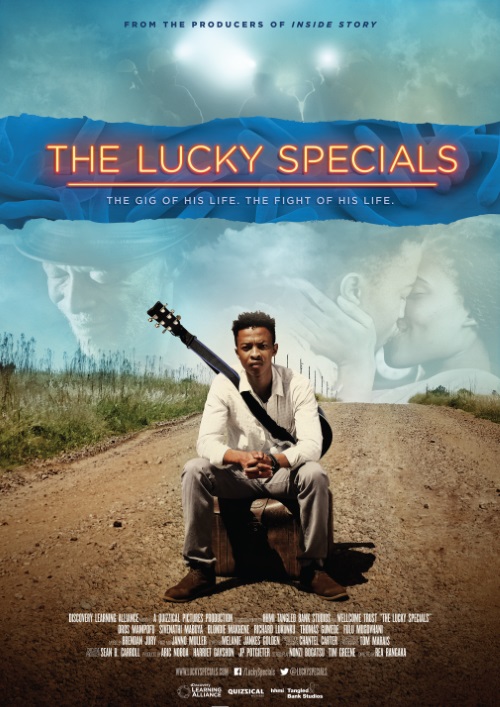 About the movie
English — The lucky specials are a small-time cover band in a dusty mining town in Southern Africa. Mandla works as a miner by day, but is passionate about playing guitar and dreams of making it big in the music industry. When tragedy strikes, Mandla, his friend and the band must find the strength to make their dreams a reality.
French — Les Lucky Specials sont un petit groupe de musiciens dans une ville minière poussiéreuse d'Afrique australe. Mandla travaille comme mineur le jour, mais est passionné de guitare et rêve de faire carrière dans la musique. Quand survient la tragédie, Mandla, son ami et le groupe trouvent la force nécessaire pour réaliser leurs rêves.
English — Rea Rangaka is a South African actor/director who completed his master's degree in film directing on a Fulbright Scholarship at Chapman University's Dodge College of Film and Media Arts in Los Angeles. His graduate film "Ode in blood" won the Cecil B. De Mille award for best director. Currently based in Johannesburg, his most recent project is The lucky specials. As an actor himself, he manages to bring out of his cast's natural and powerful performances, has a brilliant eye for stage production, and is an exciting new talent.
French — Acteur et réalisateur sud-africain, Rea Rangaka est titulaire d'une maitrise en réalisation cinématographique obtenu au Dodge College of Film and media Ar ts de Chapman University à Los Angeles grâce à une bourse Fulbright. Son film de fin d'études « Ode in blood » a été lauréat du prix Cecil B. Mille du meilleur réalisateur. Actuellement basé à Johannesburg, «The Lucky Specials» est son plus récent projet. Acteur lui-même, il parvient toujours à tirer le meilleur par ti de ses comédiens. Rea Rangaka est un talent émergent doté d'un sens génial de la mise-en-scène.