Everything But a Man
by Nnegest Likke
2020, USA/Haiti, 110 min
English Only
7:45pm | Sept 26, 2020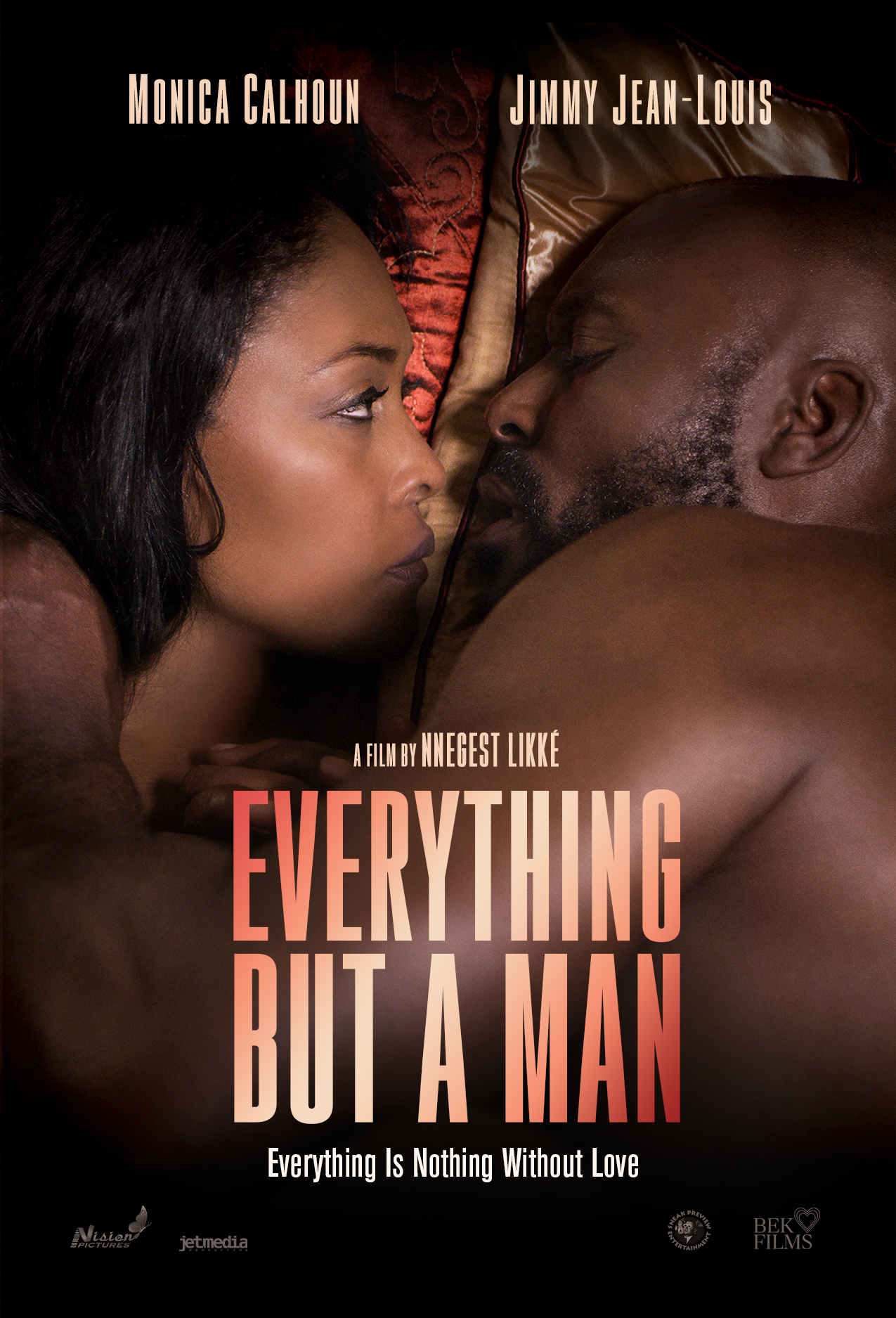 About the movie
English — Comedic, dramatic and sexual tensions collide when a man and a woman from two different worlds meet, fall in love, and then discover they have totally opposite beliefs and ideas about life, love, and what it takes to be happy.
French — Des tensions comiques, dramatiques et sexuelles se heurtent lorsqu'un homme et une femme de deux mondes différents se rencontrent, tombent amoureuse et puis découvrez qu'ils ont totalement croyances et idées opposées sur la vie, l'amour et ce qu'il faut pour être heureux.
English — Nnegest Likké is a multi-award winning writer-director-producer with three feature films to her credit, including Fox Searchlight's cross-cultural comedy Phat Girlz, the multi-award-winning African love drama Ben & Ara, and the upcoming Urban Movie Channel release of Everything But A Man, starring Monica Calhoun (The Best Man/Best Man Holiday, Players Club) and Jimmy Jean-Louis (Phat Girlz,). Nnegest, who is of African-American, Ethiopian, and Nigerian heritage has also worked extensively in Africa producing and consulting on various, local TV & Film projects. Via her production company, Nnegest continues to create commercial content for both American and African markets for film, television and digital platforms. Besides being a filmmaker, Nnegest is a creative consultant for African filmmakers and media companies, with a focus on rebranding negative stereotypes of Africans on screen. Her mission is to increase the output of projects that project positive and empowering images of black culture and people in movies, TV, and all forms of media. She's also an avid world traveler, and a member of the DGA, WGA, Film Fatales, Women In Film, and The African Artists' Association.
French — Nnegest Likké est une scénariste-réalisatrice-productrice primée à plusieurs reprises avec trois longs métrages à son actif, dont la comédie interculturelle Phat Girlz de Fox Searchlight, le drame d'amour africain primé à plusieurs reprises Ben & Ara et le prochain Urban Movie Channel sortie de Everything But A Man, avec Monica Calhoun (The Best Man / Best Man Holiday, Players Club) et Jimmy Jean-Louis (Phat Girlz,). Nnegest, qui est d'origine afro-américaine, éthiopienne et nigériane, a également beaucoup travaillé en Afrique, produisant et consultant sur divers projets locaux de télévision et de cinéma. Via sa société de production, Nnegest continue de créer du contenu commercial pour les marchés américains et africains pour le cinéma, la télévision et les plateformes numériques. En plus d'être un cinéaste, Nnegest est un consultant créatif pour les cinéastes africains et les entreprises de médias, avec un accent sur le changement de marque des stéréotypes négatifs des Africains à l'écran. Sa mission est d'augmenter la production de projets qui projettent des images positives et stimulantes de la culture et des personnes noires dans les films, la télévision et toutes les formes de médias. Elle est également une grande voyageuse du monde et membre de la DGA, WGA, Film Fatales, Women In Film et de l'African Artists' Association.