A New Country / Un Nouveau Pays
by Sifiso Khanyile
2020, South Africa, 1h
1:00pm – 3:00pm on Sept 25, 2021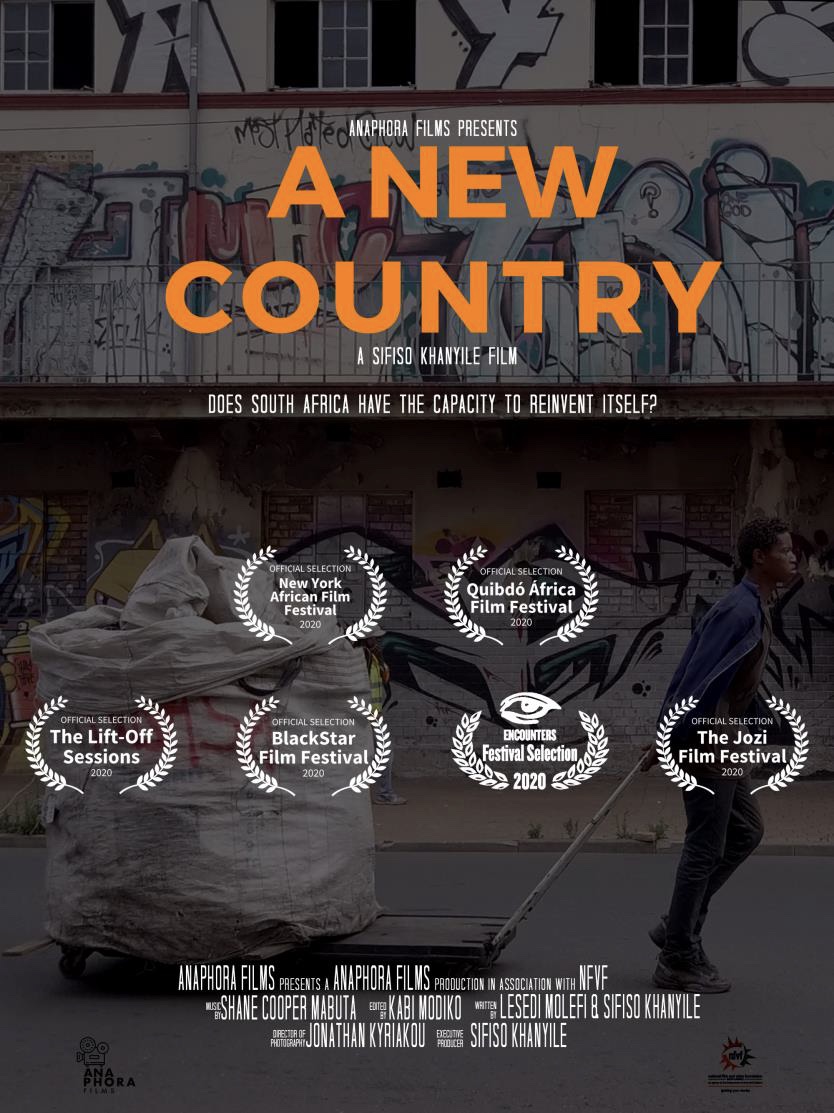 About the movie
English— When South Africa transitioned to democracy in 1994, the so-called "rainbow nation" was hailed around the world as a political miracle. Yet, 25 years later, South Africa is the most economically unequal country in the world and the legacy of economic apartheid continues to define day-to-day life for most South Africans. Heartbreakingly insightful, the film consists of remarkably frank interviews with a full spectrum of South Africans, from informal workers to pop culture figures to artists, politicians, and academics. Moving through the last three decades, the film follows the South African narrative from the early days of liberation to a contemporary society that is increasingly fractured and in which the culture of resistance and protest is as strong and vital as it was during the height of legislated apartheid.
French— Lorsque l'Afrique du Sud est passée à la démocratie en 1994, la soi-disant « nation arc-en-ciel » a été saluée dans le monde entier comme un miracle politique. Pourtant, 25 ans plus tard, l'Afrique du Sud est le pays le plus inégal au monde sur le plan économique et l'héritage de l'apartheid économique continue de définir la vie quotidienne de la plupart des Sud-Africains. D'une perspicacité déchirante, le film se compose d'entretiens remarquablement francs avec un large éventail de Sud-Africains, des travailleurs informels aux personnalités de la culture pop en passant par les artistes, les politiciens et les universitaires. Traversant les trois dernières décennies, le film suit le récit sud-africain des premiers jours de la libération à une société contemporaine de plus en plus fracturée et dans laquelle la culture de résistance et de protestation est aussi forte et vitale qu'elle l'était au plus fort de la législation. aparté.
English — Sifiso is an award winning Producer/Director for Anaphora Films. Independent archive researcher. Khanyile started his career working as writer and content producer on SABC talk and magazine shows., Khanyile directed Spiderman and Romeo, a ground breaking short documentary about the thrills and dangers of train surfing which screened at numerous local and international festivals and shown on BBC, and Sechuan TV (China). Khanyile also worked as local producer on numerous foreign productions, and produced for ABC News (America) for 4 years between 2012 and 2015. Khanyile produced his first drama film 'His majesty's Building (2012)' and also completed a feature documentary on struggle icon Andrew Mlangeni (2014) and directed his feature debut, 'Uprise!' which has been in 20 international film festivals and has won Best Documentary. His most recent work has just won 'best documentary' at 14th Edition of Dieciminuti Film Festival in Italy. As archive researcher, Sifiso has worked on several international film and television projects. Khanyile is a founding member of the Association for Transformation in Film and Television (ATFT). Khanyile is a judge for the South African Film and Television Awards (SAFTA) and has served as jury member for the International Emmys.
French — Sifiso est un producteur/réalisateur primé pour Anaphora Films. Chercheur indépendant en archives. Khanyile a commencé sa carrière en tant qu'écrivain et producteur de contenu sur des talk-shows et des magazines de la SABC. Khanyile a réalisé Spiderman and Romeo, un court documentaire révolutionnaire sur les sensations fortes et les dangers du surf en train qui a été projeté dans de nombreux festivals locaux et internationaux et diffusé sur la BBC. et Sechuan TV (Chine). Khanyile a également travaillé en tant que producteur local sur de nombreuses productions étrangères et a produit pour ABC News (Amérique) pendant 4 ans entre 2012 et 2015. Khanyile a produit son premier film dramatique "His majesty's Building (2012)" et a également réalisé un long métrage documentaire sur l'icône de la lutte. Andrew Mlangeni (2014) et a réalisé son premier long métrage, 'Uprise!' qui a participé à 20 festivals de films internationaux et a remporté le prix du meilleur documentaire. Son travail le plus récent vient de remporter le prix du "meilleur documentaire" à la 14e édition du Festival du film de Dieciminuti en Italie. En tant que chercheur en archives, Sifiso a travaillé sur plusieurs projets internationaux de cinéma et de télévision.
Khanyile est membre fondateur de l'Association pour la transformation du cinéma et de la télévision (ATFT). Khanyile est juge aux South African Film and Television Awards (SAFTA) et a été membre du jury des International Emmy Awards.