Anonymes
by Fama Reyane SOW
2020, Senegal, 15 mins
1 pm on Sept 24, 2023
About the movie
English— "Anonymous" is the story of a young girl in a day, her family, friends, work and dreams. We discover her world and her thoughts through the little voice in her head, and her imaginary stories. Without suspecting anything, she goes through her daily routine without knowing how the day will end.
Français – « Anonymes » raconte l'histoire d'une jeune fille le temps d'une journée, sa famille, ses amis, son travail et ses rêves. On découvre son univers et ses pensées à travers la petite voix qu'elle a dans la tête, et ses histoires imaginaires. Sans ne se douter de rien, elle vit sa routine quotidienne sans savoir comment va se terminer la journée.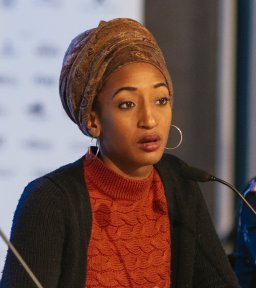 English — Of French-Senegalese origin, Fama Reyane Sow is a screenwriter, director and producer based in Dakar, Senegal.The daughter of a world-renowned Senegalese musician, and a mother who was a dancer, she was naturally drawn to the world of art. She practiced dance intensively in her youth, and later obtained a degree in Geography and Regional Planning in 2012. Having wanted to work in the film industry since her teens, she returned to Dakar after five years in France. She trained for a year at Sup'imax, an audiovisual school in Dakar. She then decided to train herself by working on shoots directly. In 2015, at FESPACO, she won an award for her feature-length screenplay "Satché", for which she went on to work in a writing house with Sud écriture (Dora Bouchoucha, Lina Chabaane) trained byJacques Fieschi in screenwriting techniques. She then became assistant director to Alassane Sy, working on the short film "Marabout", which won Best Short Film at the Carthage Festival in 2016/2017. She also worked as assistant director for Joseph Adesunloye on the feature film "White color Black", which was a big hit in London, and for American director Idil Ibrahim on "Sega" and numerous other productions in Senegal. She also writes screenplays for Blackaneze, one of the best music video production companies in Dakar, as well as for feature-length and short films by authors. She created her production company with Moulaye Sall in 2017, and began working in the institutional sector, for Batimat, the Korean cooperation in Dakar, and directed a first short and humorous series of 6 episodes, commissioned by Samsung. Since then, Khaleebi Prod has produced many corporate films (advertorials, documentaries, commercials). As a film and TV series enthusiast, she's always writing new scripts, features and shorts, and TV series bibles.
Française – D'origine franco-sénégalaise, Fama Reyane Sow est une scénariste, réalisatrice et productrice basée à Dakar au Sénégal. Fille d'un musicien sénégalais reconnu dans le monde, et une maman qui a été danseuse, c'est tout naturellement qu'elle se lie au monde de l'art. Elle pratique la danse de manière intensive dans sa jeunesse, et plus tard obtient un diplôme en Géographie et aménagement du territoire en 2012. Avec l'envie depuis son adolescence de travailler dans le monde du cinéma, elle rentre à Dakar après cinq années passées en France. Elle se forme pendant un an à Sup'imax, école d'audiovisuel de Dakar. Puis décide de se former en travaillant sur les tournages directement. En 2015, au FESPACO, elle gagne un prix avec son scénario de long métrage "Satché" pour lequel elle va travailler en maison d'écriture avec Sud écriture (Dora Bouchoucha, Lina Chabaane) formée par Jacques Fieschi aux techniques d'écriture de scénario. Elle devient ensuite assistante réalisatrice pour Alassane Sy, et travaille sur le court métrage "Marabout" qui obtient le prix du meilleur court-métrage au Festival de Carthage en 2016/2017. Elle est aussi assistante réalisatrice pour Joseph Adesunloye avec le long métrage "White color Black" qui connaît un gros succès à Londres, et aussi pour la réalisatrice américaine Idil Ibrahim avec "Sega" et de nombreuses autres productions au Sénégal. Elle écrit aussi des scénarios pour Blackaneze, une des meilleures boite de production de clips musicaux à Dakar, mais écrits aussi pour des longs et courts métrages d'auteurs. Elle crée sa boite de production avec Moulaye Sall en 2017, et commence à travailler dans l'institutionnel, pour Batimat, la coopération Coréenne à Dakar, et elle réalise une première série courte et humoristique de 6 épisodes, commandée par Samsung. Ils créent aussi des concepts d'émission tv, télé-réalités et émission de captation, ou d'information. Depuis, Khaleebi Prod réalise beaucoup de films institutionnels (Publi reportages, documentaires, publicités). Et produit aussi beaucoup de scénarios de fiction et de concepts de jeux TV et émissions culturelles. Passionnée de cinéma, et de série TV, elle écrits tout le temps de nouveaux scénarios, de longs et courts métrages, et des bibles de séries tv.