Innocent(e)
by Frank Lea Malle
2019, Cameroon, 97 min
French with English subtitle
7:20pm | Sept 27, 2020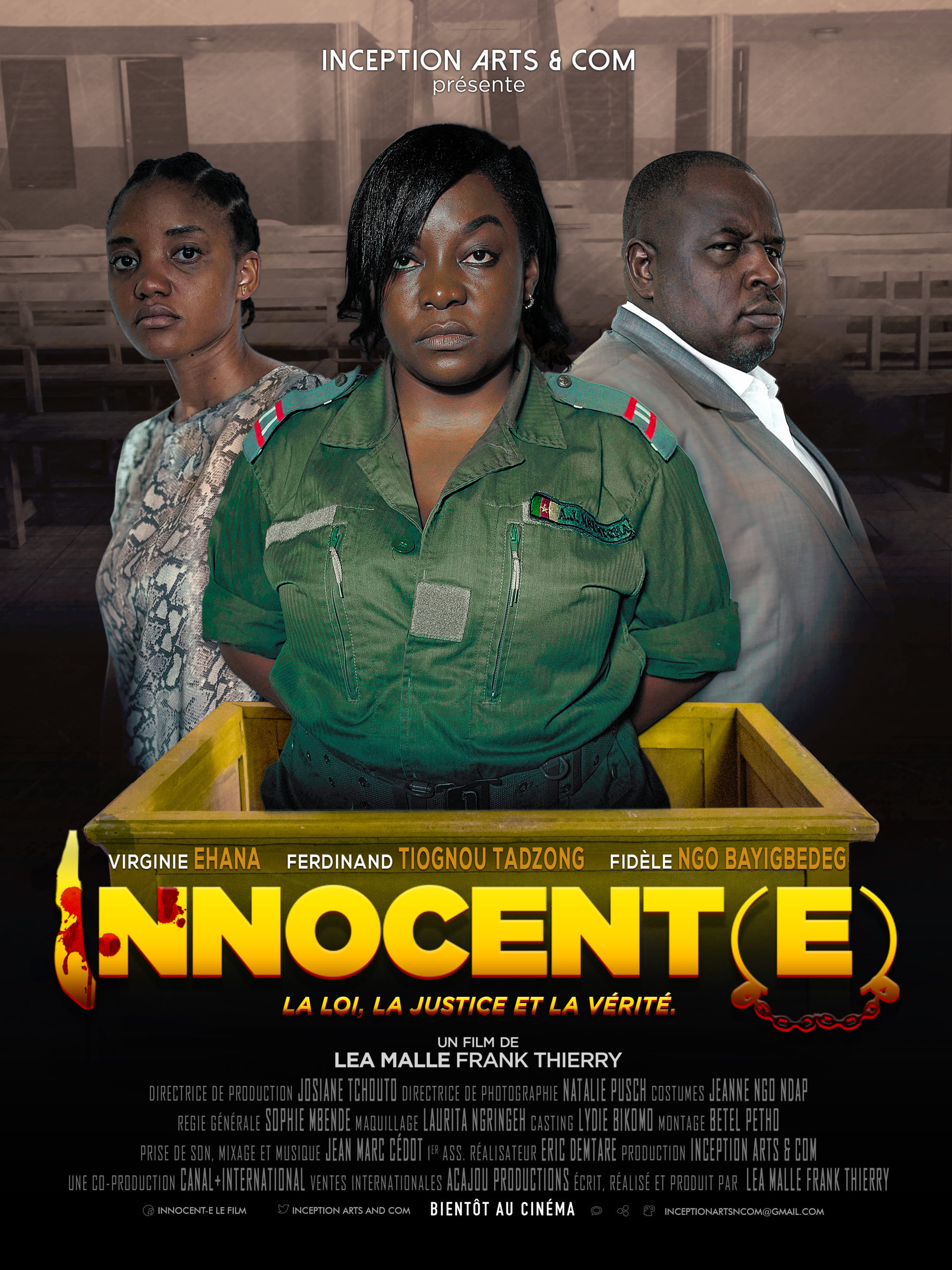 About the movie
English —Joséphine MBUNTCHA is a young female non-commissioned officer of the gendarmerie who, despite the sexist prejudices of Cameroonian society, despite her struggling marriage, will have to resolve a controversial case of a double attempted murder between a 17-year-old girl and a politician.
French — Joséphine MBUNTCHA estune jeune femme sous-officier de gendarmerie qui, malgré les préjugés sexistes de la société camerounaise, malgré son mariage qui bat de l'aile, va devoir résoudre une affaire controversée de double tentative de meurtre entre une jeune fille de 17ans et un politicien.
English — Frank Thierry LEA MALLE is a young Cameroonian film Director, scriptwriter, and producer. He holds a Master's Degree in Performing Arts and Cinematography from the Yaoundé 1 University in Cameroon. In 2016 he set up a film and entertainment company named "INCEPTION ARTS & COM". A young firm which mainly aimed at helping young Cameroonian filmmakers or aspiring filmmakers. Since then, he has produced 5 films, 4 of which have been directed by him. All of them have been selected in both international and national festivals. Through his various productions, he has won several awards: the Award of "10 jours pour 1 film" during the 2016 Ecrans Noirs Festival; the award "HE FOR SHE" at the Miss Me Binga 2017 festival, both In Cameroon. Also, he received the "YAMFA d'Or" award at the 2017 edition of the Africa Film Festival de Leveun in Belgium, An Excellence Award at the wuda fait son ciné festival in China, two best fictions award from both Congo and many others…
In May 2017, he took part in a professional internship named "Film Arche" where he directed his third film "HANDS". In 2019, he produced his first feature film "Innocent(e)", which is already been nominated in international festivals.
French — Frank Thierry LEA MALLE est un jeune réalisateur, scénariste et producteur camerounais. Il est titulaire d'un Master en Arts du Spectacle et Cinématographie de l'Université Yaoundé 1 au Cameroun. En 2016, il a créé une société de cinéma et de divertissement nommée "INCEPTION ARTS & COM." Une jeune entreprise qui vise principalement à aider les jeunes cinéastes camerounais ou en herbe. Depuis, il a produit 5 films, dont 4 ont été réalisés par lui. Tous ont été sélectionnés dans des festivals nationaux et internationaux. A travers ses différentes productions, il a remporté plusieurs prix: le Prix des "10 jours pour 1 film" lors du Festival des Écrans Noirs 2016; le prix "HE FOR SHE" au festival Miss Me Binga 2017, tous deux au Cameroun. Il a également reçu le prix "YAMFA d'Or" lors de l'édition 2017 du Festival du Film Africain de Leveun en Belgique, un Prix d'Excellence au festival wuda fait son ciné en Chine, deux prix de la meilleure fiction du Congo et bien d'autres. ..